Gordon and Hamlin have work to do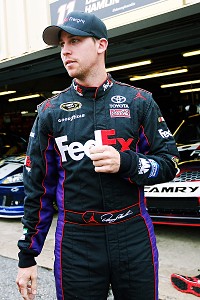 LOUDON, N.H. — Jeff Gordon, the man who ranks last in the Chase, starts first on Sunday. Denny Hamlin, the man who tweeted he would win Sunday, starts last among the 12 Chase drivers.
Those are a couple of the oddities that could change during the Sylvania 300 at New Hampshire Motor Speedway (2 p.m. ET, ESPN and WatchESPN) for two drivers who started the 2012 Chase with disappointment.
[+] Enlarge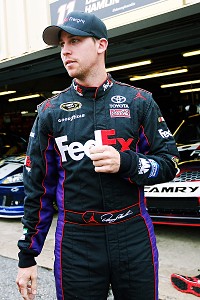 Jamie Squire/Getty ImagesDenny Hamlin and his team need to eliminate mistakes, one of which Friday cost him a shot at the pole in New Hampshire.
Gordon showed Friday that he's still in it to win by posting the best qualifying lap — a nice moment, but relatively meaningless unless he can follow it up with a good finish or even a victory.
"There are no points for the pole," Gordon said. "It doesn't guarantee anything for the race. Certainly it is a nice boost and something to build on."
Gordon's bad-luck season carried into the Chase opener last weekend at Chicagoland Speedway when a stuck throttle on the No. 24 Chevrolet caused him to hit the wall and finish 35th.
It placed Gordon 12th in the 12-man Chase, 47 points (or one full race of points) behind leader Brad Keselowski.
Gordon made a miraculous comeback run at Richmond to beat out Kyle Busch for the final Chase spot. Now Gordon needs another big run Sunday to get back into Chase contention.
He couldn't ask for a better opportunity, but he probably can thank his pole run Friday to Hamlin's team making a careless error of improperly inflating the tires for his qualifying run.
Hamlin had the fastest lap in the opening practice, which gave him the final attempt in qualifying. But the car was way off, posting a lap that placed him 32nd on the starting grid.
"Holy cow, I knew something was really wrong because the car was bobbing down real bad," Hamlin said. "We ended up having race pressures [in the tires] and we didn't put our qualifying pressures in, so that was a tough one. It's a simple mistake. We'll rebound from it. We're quick enough. We'll get them, but that's frustrating."
Hamlin took the whole tire blunder in stride, smiling and indicating it was no big deal. But coming off a race in which the No. 11 Toyota team miscalculated and ran out of gas at the end (causing a 16th-place finish), it seems the focus is lacking.
Nevertheless, Hamlin remains confident and believes the team will rebound. He was so confident after the Chicagoland race that he tweeted he would win at New Hampshire; a comment Hamlin said was overblown by the media.
"I go to every track thinking I can win," he said.
Hamlin's tires were inflated properly again Saturday. He had the fastest lap in both practice sessions, including a lap at 132.053 mph in Happy Hour.
Gordon was a so-so 15th in the final practice.
Clearly, Hamlin has the speed to get it done this weekend. He probably should have won here in July, when he led 150 laps. But his team changed four tires before the final restart while the other contenders took two.
Hamlin restarted 13th and finished second to Kasey Kahne that day. It was quite a run, but Hamlin fell one spot short on the flat, paper-clip-shaped oval where passing is difficult. That's his problem Sunday. And this is one of NASCAR's shortest Cup races at only 300 laps, so there's a sense of urgency to get up front quickly.
Mike and Mike in the Morning
ESPN NASCAR analyst Dale Jarrett comments on the Sylvania 300, Denny Hamlin, Jimmie Johnson, Clint Bowyer, Tony Stewart, Jeff Gordon and more.
The Loudon track also has a tight pit road where problems can hurt your chances. Hamlin's poor qualifying run means he had to take a pit stall he hoped to avoid. He won't have a coveted opening in front of or behind him. Jeff Burton is behind him and Landon Cassill in front.
Gordon, on the other hand, is free and clear in the first pit stall. It certainly doesn't mean that Gordon will win the race or that Hamlin will lose it, but it does mean Hamlin's path to victory is a little more difficult.
But Gordon expects Hamlin to be near the front at the end.
"He drove from 16th or something like that [13th] to second the last time we were here after the last stop," Gordon said of Hamlin. "Those guys are good. Their car looked really strong. I don't think it's going to be an issue."
Hamlin started the Chase as one of the favorites to win the championship after winning two of the last three regular-season races.
He started the playoff on top with a 3-point lead as the only driver wi
th four victories. Now he's tied for fourth in the standings, 15 points behind Keselowski, after the fuel miscue last week.
An 18-point negative swing to start the Chase is not what Hamlin expected. A rare throttle issue caused by a part failure is something Gordon couldn't have imagined to start his playoff run.
Both drivers need something good to happen at New Hampshire. Winning is almost mandatory for Gordon. Winning is expected, and predicted, by Hamlin.
One will start up front and hopes to end there. The other starts near the back and hopes to get to the front. Look for one of them, and maybe both, to be up front fighting to win it in the final laps Sunday.