Labor Day cancelled, Empty Chair Day goes viral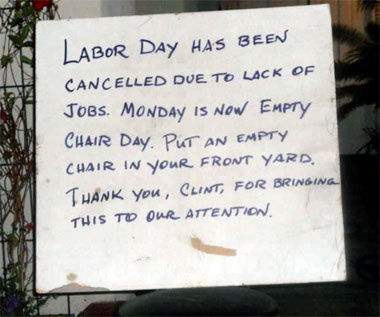 If you haven't seen it yet, chances are you just haven't checked your Facebook page or your Twitter account in the last five minutes or so. Labor Day has been cancelled and in its place Americans will be celebrating Empty Chair Day on Monday, September 3, 2012.
Taking a cue from Clint Eastwood's now famous GOP address, where he spoke to an empty chair, Americans all over the country are placing empty chairs on their front lawns to commemorate Labor Day.
An image making the rounds on Facebook says:
"Labor Day has been cancelled due to lack of jobs. Monday is now Empty Chair Day. Put an empty chair in your front yard. Thank you, Clint, for bringing this to our attention.
Prev Article
|
Next Article