Magic in the air at Chicagoland
JOLIET, Ill. — If you're like the 12 drivers competing for the Sprint Cup championship, you'll wake up feeling different on Sunday than on any other morning of the season thus far.
You'll feel more energy in the air.
More excitement.
Mike and Mike in the Morning
ESPN NASCAR analyst Dale Jarrett gives his take on the start of the Chase for the Sprint Cup, Denny Hamlin, Jimmie Johnson, Clint Bowyer and more.
You'll know what happened in the first 26 races means nothing for your favorite driver, that — as Tony Stewart did a year ago — you can go from the outhouse to the penthouse in the time it takes to run 400 miles at Chicagoland Speedway (Sunday, 2 p.m. ET, ESPN).
You'll feel more pressure, but, like the driver you love, there's pressure because that's what going for championships is all about, whether it's the Super Bowl, the World Series or the Chase for the Cup.
"I have to imagine that every guy that woke up this morning felt a little different when they realized it was Chicago," five-time Cup champion Jimmie Johnson said as he anticipated the Chase opener before he went out and qualified on the pole.
Don't believe it? Ask those not in the Chase. Ask Carl Edwards, who was one better position in any of the 10 playoff races last season from being crowned champion.
"I wouldn't call it an emptiness, but it definitely feels like a piece of the puzzle is missing," said Edwards, who, along with Kyle Busch, was among the favorites who didn't make the Chase. "This is when it all ramps up. … Everything I've done this season has been geared toward these 10 races.
"Now I'm as physically fit as I can be. I'm mentally fit. I'm prepared. I'm ready to go. There's still victories out there, but there's not that huge goal. That's tough. I don't know how to put it into words."
Well, he does. He's just too polite to use them.
But for those in the Chase, this is what they've been waiting for all season, maybe now more than in any previous Chase. Stewart winning five races in the Chase and the title a year ago after winning no races in the regular season, after saying he was wasting a spot in the Chase before it began, gives everyone hope that this truly is wide open.
"If you had sat here one year ago today and said Tony Stewart was going to win five of these races, everybody would have said, 'What are you smoking? That's insane,'" Edwards said. "That wasn't reality.
[+] Enlarge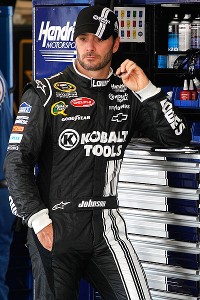 Tyler Barrick/Getty ImagesJimmie Johnson may be the favorite to win the Sprint Cup trophy this season, but last year proved anything's possible.
"And they did it. That's why it's so painful for Kyle and I to be on the outside, because we know anything can happen."
The Chase is unlike playoffs in most sports because it is so unpredictable. A football team with a potent passing attack typically doesn't forget how to complete passes. A baseball team with a strong pitching staff doesn't typically start surrendering a ton of runs.
Those teams have a formula that worked in the regular season that typically sustains them through the playoffs.
In NASCAR, there is no one proven formula. Stewart won the title in 2005 without winning a race. He won it last season in a tiebreaker by winning five.
Johnson won the 2006 title despite being eighth in points with six races to go. He never fell below second over the final eight races in 2007 and led the standings all but one race in 2008.
And entering the Chase with momentum typically means nothing. The playoff driver with the best average finish in the five races before the Chase has finished no better than fourth the past four years.
Johnson had the worst average finish in that span in 2009 and won the Chase by a whopping 141 points under the old points system. Denny Hamlin finished second in 2010 — and should have won had it not been for a late collapse — having limped into the playoffs.
This Chase is so wide open that we're seriously talking about Dale Earnhardt Jr.'s chances, which hasn't happened before.
And it has nothing to do with Earnhardt's personal life being more stable than ever.
"I ran pretty good in 2004, and I was anything but stable off the track," Earnhardt said with a laugh.
He'll have to start Sunday's race from the back of the field after an engine change Saturday afternoon. He had qualified fourth. But, yes, even Earnhardt believes.
"This is the best chance I have ever had," he said. "I think even more than 2004."
That's what Stewart's improbable run did for the Chase. He raised the excitement level for the start of this year's playoff to a new high because you can picture Clint Bowyer winning it just as easily as you can Johnson.
And nobody is higher in excitement than Jeff Gordon, who pulled off the comeback of the year to take the final Chase spot from Busch with last weekend's second-place finish at Richmond.
He's so jacked that he's growing back that god-awful mustache he had entering the sport in the early '90s.
"I feel the only way that you don't hear from us in the Chase is some of the same things that bit us earlier in the year bite us again," said Gordon, who had a string of bad luck that had him 22nd in points 13 races ago.
"What I love about the Chase is that it's all about timing. If you pull it together and improve those things in areas that you're weak in at the right time and make your way into it … anything is possible."
"

I would have lost my house, everything, because I would have bet totally against what happened. I didn't have the confidence that was even feasible for our team. It just shows you can sit here today and feel confident and it not work or you can be feeling like you're going to run dead last and win five races. You just don't know.
Prev Article
|
Next Article