Nascar: At Talladega Dale Earnhardt Jr. denied by last-lap Crash
TALLADEGA, Ala. — Dale Earnhardt Jr. had the setup thought out, and his run in motion. All that remained was to follow through and pass Jamie McMurray midway through the final lap. McMurray could see Earnhardt coming in his mirror, see the drafting help Earnhardt had behind him.
McMurray thought he had but one weapon left: "I was getting ready to start swerving to try to stay in front of him," McMurray said.
McMurray never had to swerve. The threat went away in an instant.
[+] Enlarge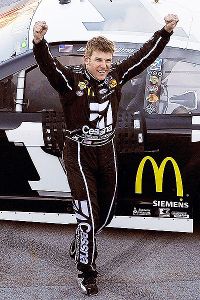 Jared C. Tilton/NASCAR/Getty ImagesJamie McMurray celebrated his first Sprint Cup victory since 2010 Sunday at Talladega.
"I noticed the run stopped," Earnhardt said. "And I looked in the mirror and guys were out of control."
Earnhardt's help was wrecking behind him. His momentum dwindled.
And because the wreck happened on the last lap, and a caution came out, the race was frozen — ended then and there. No green-white-checkered finish for Sunday's Camping World RV Sales 500.
That broke a 108-race losing streak for McMurray, dating back to almost exactly three years ago, at Charlotte.
And it kept Earnhardt, a five-time winner at Talladega Superspeedway, from getting his first victory here since 2004.
Had Earnhardt been able to continue his charge, "I don't know how I was going to defend that," McMurray said. "I was going to play it by ear."
Earnhardt was counting on, and McMurray was fearing, young Austin Dillon, running third in the car of the injured Tony Stewart. Behind Dillon was rookie Ricky Stenhouse Jr.
It was Stenhouse who was the catalyst for the outcome. He made a move. Dillon tried to block. Stenhouse clipped Dillon. Dillon went spinning — there went Earnhardt's help — and then was hit hard by the onrushing Casey Mears.
That didn't detonate a big one, just a small one, just Dillon and Mears, but it was serious enough to bring out the caution and freeze the field on the final lap.
It all amounted to one of the most bizarre finishes in the history of a place known for bizarre finishes. This one was bizarre for opposite reasons — because it was so meek and mild, so nearly placid, so aberrant from the massive, chaotic pileups so common here.
Before the last-lap wreck, the field had gone 104 consecutive laps caution-free, out of the total 188. There were only three cautions for the day, and the first two were minor and early in the race.
[+] Enlarge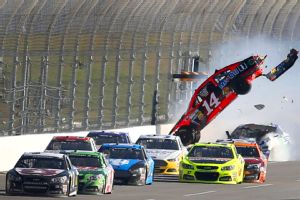 Rob Carr/Getty ImagesJamie McMurray won under caution at Talladega after Austin Dillon went airborne on the final lap.
There was no "big one" at all. Just the little one that snuffed what might have been a thriller at the finish.
"Just didn't time it quite right, and us and the 14 [Dillon] met in the middle and caused a crash," Stenhouse admitted. "Bummed that we caused that …"
Dillon wouldn't share blame, saying Stenhouse "came back across and hooked me."
Before that, "I had a plan," Earnhardt said. "We were going to get a run down the back straightaway, me and the 14 and whoever else wanted to go."
McMurray said that Earnhardt "was in a much better position" to see all that went on, so here is a narrative from Earnhardt:
"I had no reason to make a move before the last lap, being in second place," Earnhardt said. "I was in perfect position to be patient and wait as long as I wanted to.
"So that's why we didn't go any sooner than that. I just can't anticipate a caution coming out on the last lap every single time we run a Talladega race, so I just assumed it would go to checkered and was planning my move on the back straightaway."
Early in the last lap, "We sort of let the 1 car [McMurray] get out there a little bit going down the front straightaway into Turn 1," Earnhardt said, "and then we mashed the gas in the middle of the corner and got a run with the 14. I was moving around a little bit to see where the 1 thought I might be going, because I've got to sort of fake him out, and I noticed the run stopped, and I looked in the mirror and guys were out of control."
Usually, the wild runs here begin with at least five laps to go, sometimes as early as with 20 or 30 to go. This time, there was an eerie, long lull before a storm that never came.
"For some reason it was a lot calmer the last few laps," Earnhardt said. "Everybody was being pretty good about staying in line."
Maybe Earnhardt, running second, was just too close to the front to stir up the scrambling the way he often does here.
"I would have been a little more antsy if I'd been back there in fifth or 10th," Earnhardt said, "but they weren't jumping out. Had they jumped out and moved with five to go, or nine to go, whatever, we might have gone sooner, been forced to go sooner, than we did.
"But nobody moved. So I was like, 'Hey, I'm just going to wait until the end. I don't have to try until the very end. I've got one guy to pass, and all I've got to do is make one run happen, and maybe it'll work.' "
Because of the placid racing, all 12 Chasers finished the race without incidents.
Jimmie Johnson took a four-point lead in the standings over Matt Kenseth by virtue of his conservative 13th-place finish to Kenseth's more-conservative 20th.
Why were there no antsy moves, save Stenhouse's, all back through the pack in the waning laps?
"I don't know," Earnhardt said. "I don't really know."