Who Will Win the April 26 Primaries? Six Views Point to Trump and Clinton
After their home-turf blowouts in New York last week, the presidential front-runners, Democrat Hillary Clinton and Republican Donald Trump, appear to be heading for a string of wins on Tuesday, when five eastern states, including the key swing state of Pennsylvania, hold primaries. Vermont Senator Bernie Sanders, who is looking to regain his momentum against Clinton, appears to have the best chance of notching a win in Rhode Island, while Texas senator Ted Cruz and Ohio Governor John Kasich will need to rely on wins in individual congressional districts to keep Trump from getting the 1,237 delegates he needs to clinch the nomination. Here are six credible views on who will win:
PredictWise: Trump and Clinton
The research project led by David Rothschild, an economist at Microsoft Research in New York City, aggregates betting-market data and has successfully predicted the winner in 57 of 67 state nominating contests it's covered so far this year. As of Sunday, Trump had a 94 percent chance or higher of winning each of the five April 26 primaries.
That includes a 96 percent chance of victory in Pennsylvania, but that high figure belies a measure of uncertainty: In addition to the 17 delegates awarded to the winner of Pennsylvania's primary, the Keystone State also holds a so-called loophole primary, in which voters directly elect 54 delegates who are not bound to vote for a specific candidate at July's Republican convention.
On the Democratic side, Clinton was the clear favorite in Maryland, Delaware, Connecticut, and Pennsylvania. Rhode Island is the only state where the site give Sanders even a fighting change, with a 34 percent chance of an upset victory.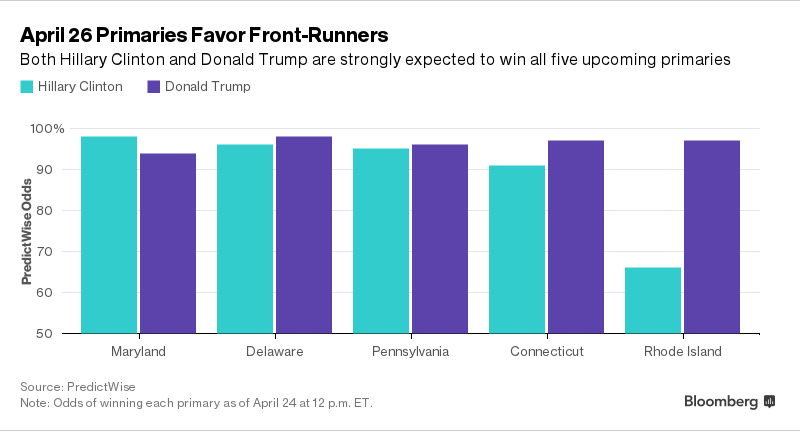 RealClearPolitics: Trump and Clinton
As of Sunday, the poll averaging and aggregating site has Trump leading by double-digits in Connecticut, Pennsylvania, and Maryland. Delaware and Rhode Island were examined by just a single qualifying survey each in April—not enough for the site to calculate an official average—but in both cases Trump was favored to win, including by a 37-point margin in Delaware.
Clinton also commanded double-digit leads in Maryland and Pennsylvania, but she faced tighter odds in Connecticut, Delaware, and Rhode Island, where she led by less than 10 points in every qualifying poll conducted in April.
Bing: Trump and Clinton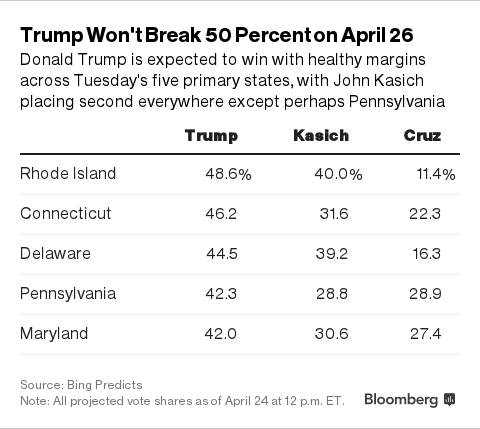 With a roughly 79-percent accuracy rating so far this cycle, Bing predicts Trump will win all five Republican primaries by margins of between 5 and 15 points, according to its "machine-learned predictive model," which parses data from polls, prediction markets, search engine queries, and social-media posts. Trump's predicted vote shares would translate into roughly 60 of the 73 at-large delegates for the day, including Delaware's entire slate of 16 delegates. Yet as Trump is not projected to receive an overall majority of the vote in any state, he'll be lucky to sweep all 15 of the congressional districts (in Maryland, Connecticut, and Rhode Island) that are each worth three additional delegates.
Bing, meanwhile, predicts Ted Cruz will follow his poor New York performance, in which he received no delegates, with several more third-place finishes on Tuesday. In Connecticut, Cruz is expected to just barely squeak past the 20 percent threshold required to qualify for any statewide delegates, assuming Trump doesn't cross the 50 percent threshold he'd need to win all 13 at-large delegates. In Rhode Island, where the threshold is just 10 percent, Cruz once again is expected to narrowly qualify, earning 11.4 percent of the vote.
On the Democratic side, Hillary Clinton is projected to win big in Delaware (by 32 points), Maryland (by 25 points), and Pennsylvania (by nearly 18 points). In these three states, she's therefore likely to win 60 of the 100 statewide delegates set to be awarded proportionally. In Connecticut, she's expected to beat Sanders by nearly 7 points, while he's projected to win by almost 9 points in Rhode Island.
FiveThirtyEight: Trump and Clinton
As of Sunday, FiveThirtyEight, which is run by former New York Times stats guru Nate Silver, gave Trump more than an 85 percent chance of winning Pennsylvania. Connecticut, meanwhile, looks even stronger for the Manhattan billionaire, with at least a 90 percent chance of winning. In Maryland, Trump had a 93 percent chance looking only at state polls or an 81 percent chance in a model from the site that combines state polls with the effects of national polling and endorsements.
The site didn't look at Rhode Island or Delaware.
As for the Democrats, Clinton had at least a 96 percent chance of sweeping the two largest primaries, Pennsylvania and Maryland, with an average vote share of between 57 percent and 63 percent. Clinton also had a 92 percent chance of winning in Connecticut.
Political Insiders: Toss-up and Clinton
Of the five primary states voting on Tuesday, endorsements from Republican governors and members of Congress are few and far between. Maryland Governor Larry Hogan had previously endorsed New Jersey Governor Chris Christie, who is now one of Donald Trump's key surrogates, but told the Associated Press in late March that "I don't think [Trump] should be the nominee." Pennsylvania Senator Toomey had previously endorsed fellow senator Marco Rubio but has so far refrained from backing any of the remaining contenders, including his colleague Ted Cruz. As for the rest of Pennsylvania's 14-strong Republican congressional delegation, two congressmen have publicly backed Donald Trump so far, with one in John Kasich's camp.
Kasich's support looks more significant when including former elected officials, such as former Pennsylvania Governor Tom Ridge, a former Rhode Island governor and lieutenant governor, as well as at least six former members of Congress (three from Pennsylvania and three from Connecticut).
Endorsements from elected officials have historically been among the best available indicators of success in a party primary, although that pattern has been challenged by the 2016 Republican race.
Meanwhile, over on the Democratic side the endorsement tally is entirely stacked in Hillary Clinton's favor: all four Democratic governors, all nine Democratic senators, as well as 17 of 20 Democratic members of the House of Representatives.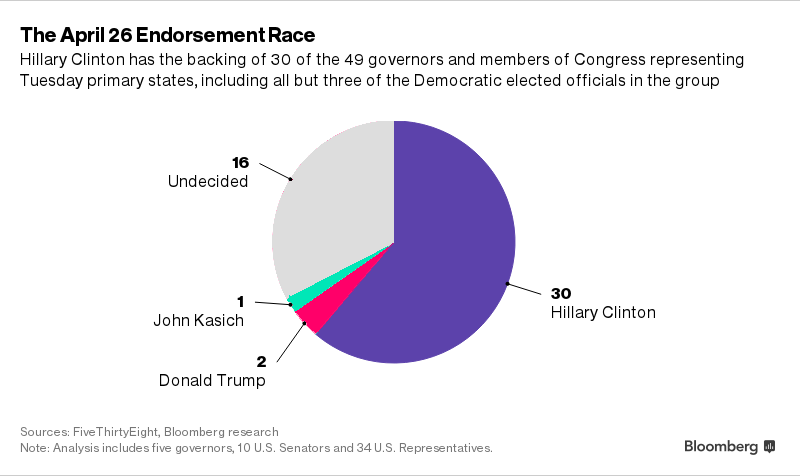 Ballotcraft: Trump and Clinton
This fantasy politics game, founded by two Stanford grads, has thousands of players who use fake money to buy "shares" in candidates. So far, it has correctly predicted 60 of the 72 nominating contests it has covered as of one day prior to voting.
As of Sunday, shares of Trump were worth at least $0.75, meaning his chances of winning exceed 75 percent, in Maryland, Connecticut, and Delaware. In Pennsylvania and Rhode Island, the site's users put Trump's chances of winning at a minimum of 65 percent. The site doesn't look at vote share.
Clinton had the advantage in Maryland, with a 76-percent chance of winning; in Delaware, with 65-percent odds; and in Pennsylvania, with 59 percent. In Connecticut, where the two Democratic contenders exchanged the lead a few times earlier in the month, Clinton shares are worth around $0.59, up from a low of $0.49. The only real bright spot for Sanders is Rhode Island, where he has led since April 9 and currently has a 62-percent chance of winning.